Last weekend was Sister's 12th Birthday party. For the last six years we haven't had real parties opting instead to go and do a fun activity on the girls' birthdays. This year, however, both girls decided they wanted a party instead.
Sister loves
Pinterest
as much, if not more, as I do and loved finding ideas for her party on there. She originally discussed having a 50′s Diner themed party but then decided to have a Red, White & Blue one since her birthday is close to Independence Day. It was a lot of fun and so very easy to get most of what we needed for this party with the abundance of red, white and blue items available in June & July.
Naturally we tried to do the party as frugally as possible by using items we had on hand along with  inexpensive items to match our theme.
The Decor
We were able to decorate very inexpensively thanks to a combination of using items we had on hand along with the plethora of red, white and blue items available in the Target $1 section and The Dollar Tree.
The Flag banner hanging in the background was purchased at The Dollar Tree.
The tissue paper pom poms were made with white tissue paper we had and some red & blue tissue paper packs I picked up for .97 cents each.
The centerpiece was made with a paint can and bandanna we had. The pinwheels came from the $1 bins at Target. I put some floral foam in the bottom of the paint can and inserted the pinwheels in it to hold them in place.
The small pails & flags also came from the $1 bins at Target. The flags were in packs of 3 for $1. Again I used the floral foam to hold the flags in place.
The table cloth is just 2 1/2 yards of inexpensive cotton fabric.
The Food 
Again, the food ideas were easy to come by thanks to Pinterest.
Sister wanted a flag cake and there are many different ways to make one. Sister chose a dark chocolate cake and cream cheese icing with strawberries and blueberries. It was a delicious flavor combination. I am in  no way a great cake decorator and ended up improvising a bit. Even with a crumb coat, I ended up with tons of crumbs mixed in with the original frosting job. So I whipped up a second batch of frosting and very quickly piped it on to cover up the crumbs. You do what you have to do. 
We found red, "white", & blue goldfish and served them in one of the Target $1 bin pails.
The red, white & blue strawberries were a Pinterest find and were a big hit.  I served them on one of my glass platters.
The

Cookie Cutter Fruit Salad

was also found on Pinterest. The girls ate a bunch of this both that night and for breakfast the next day. I served it in my glass salad bowl.
Finally, we had red, white and blue star shaped marshmallows that I served in a white & blue Pyrex bowl. 
The Party Favors

We had fun coming up with ideas for the party favors. We ended up using boxes of Cracker Jack, Pop Rocks, and little American flags tied together with red and white checked ribbon.
Boxes of Cracker Jack are not easy to find. Our Publix had them in a little display up front about a month before the party and I made the mistake of not buying them then. When I went back to get them they didn't have them anymore. After checking several different stores we finally found them at Cracker Barrel. The boxes Cracker Barrel has are vintage looking which made them really fun.  
We found Pop Rocks in packs of 3 for $1 at The Dollar Tree. 
The flags were the same 3 for $1 flags we found at Target. 
I bought the ribbon by the yard at Walmart which saved money over buying the individual spools of it. It was just .77 cents/yard instead of .99 cents/yard.
The Birthday Girl
Sister and her friends had a blast! They played Just Dance and had an epic water balloon fight. They ate cake and pizza and watched National Treasure. And they talked and laughed a lot and made a lot of memories, which is a great way to celebrate being twelve.
This post linked to:
I'm Lovin' It at TidyMom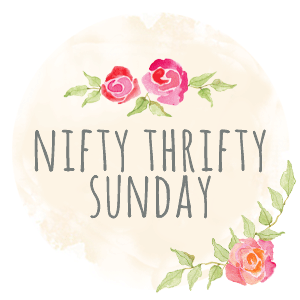 Subscribe to Frugal & Focused and get ideas and encouragement delivered to your inbox.
Enter your email address:

Delivered by FeedBurner